William M. Gatesman practices law in Maryland and the District of Columbia. He deals primarily with the areas of elder law and estate planning, wills and trusts, guardianship, and estate administration. William M. Gatesman has been rated AV (a pre-eminent lawyer) by his peers as reported by the independent lawyer rating agency, Martindale Hubbell.  Scroll down for more information regarding Mr. Gatesman and the services he offers.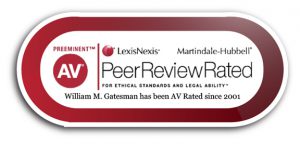 The Gatesman Law Office is a private practice law firm, with offices in Columbia and Rockville, Maryland.  In addition, Mr. Gatesman serves clients in western Maryland, with offices in Frederick and Hagerstown.
The Rockville office is located at 2275 Research Blvd., Suite 500, Rockville, Maryland 20850, just off of Shady Grove Road, west of Route 270.
The Columbia office is located at  10440 Little Patuxent Pkwy, 30 Corporate Center Columbia, Maryland, near the Columbia Mall.
Mr. Gatesman also is available to make house calls throughout Maryland and D.C. upon request.
Mr. Gatesman has written numerous articles and is a regular speaker addressing elder law, estate planning, and income tax planning. If you require a speaker for your organization, please send an email to us by clicking -Here-.
Mr. Gatesman has been a featured presenter in numerous continuing professional education seminars for lawyers, accountants, nursing home administrators, real estate professionals, and others, including the National Academy of Elder Law Attorneys, the Maryland Institute of Continuing Professional Education for Lawyers, and various other legal education organizations.
Mr. Gatesman has served on the governing councils of both the Maryland Members of the National Academy of Elder Law Attorneys and the Elder Law Section of the Maryland State Bar Association. In addition to studying law, Mr. Gatesman holds a Master of Accountancy degree.
Mr. Gatesman's published articles include:
Senior Law Report, served as Editor and principal author, December, 1996 through February, 1998.

Contributing author to the column, Retirement Planning in Officer's Call, the magazine of the U.S. military National Officer's Association.

Elder Law: Protecting Your Loved One's Assets, Baltimore Magazine, April, 1994.

Medicaid Alert: New Rules Make Your Pre-Crisis Planning a Top Priority, Baltimore Sun Magazine, October 23, 1994.

Using Revocable Living Trusts to Ensure Your Financial Security, Baltimore Sun Magazine, Spring 1994.

Revised and updated Chapters 1 through 6 of A. Budish, Avoiding the Medicaid Trap, Second Edition, 1994.

Medical Assistance Planning: New Regulations Make Substantial Changes to the Medicaid Rules, HUPK Legal Focus, Summer, 1994.

Advising Patients and Their Families Regarding Legal and Health Care Issues in Time of Crisis, Physicians Practice Digest, Fall, 1994.

Note: Colonial American Life Ins. Co. v. Commissioner: Supreme Court Disregards Congressional Intent That Indemnity Reinsurance Ceding Commissions Be Deductible, 39 Am. U.L. Rev. 1267 (1990).
[You my read that article at this webpage: http://aulawreview.org/pdfs/39/39-4/Gatesman.pdf]

IRS Automobile Valuation Rules Lead to Inequitable Employee Tax Consequences, 65 Taxes 387 (1987).

Income Tax Planning for the Departing Resident Alien Taxpayer, 12 Int'l Tax Jnl. 135 (1986) (article was translated into Japanese).